Genetic Insights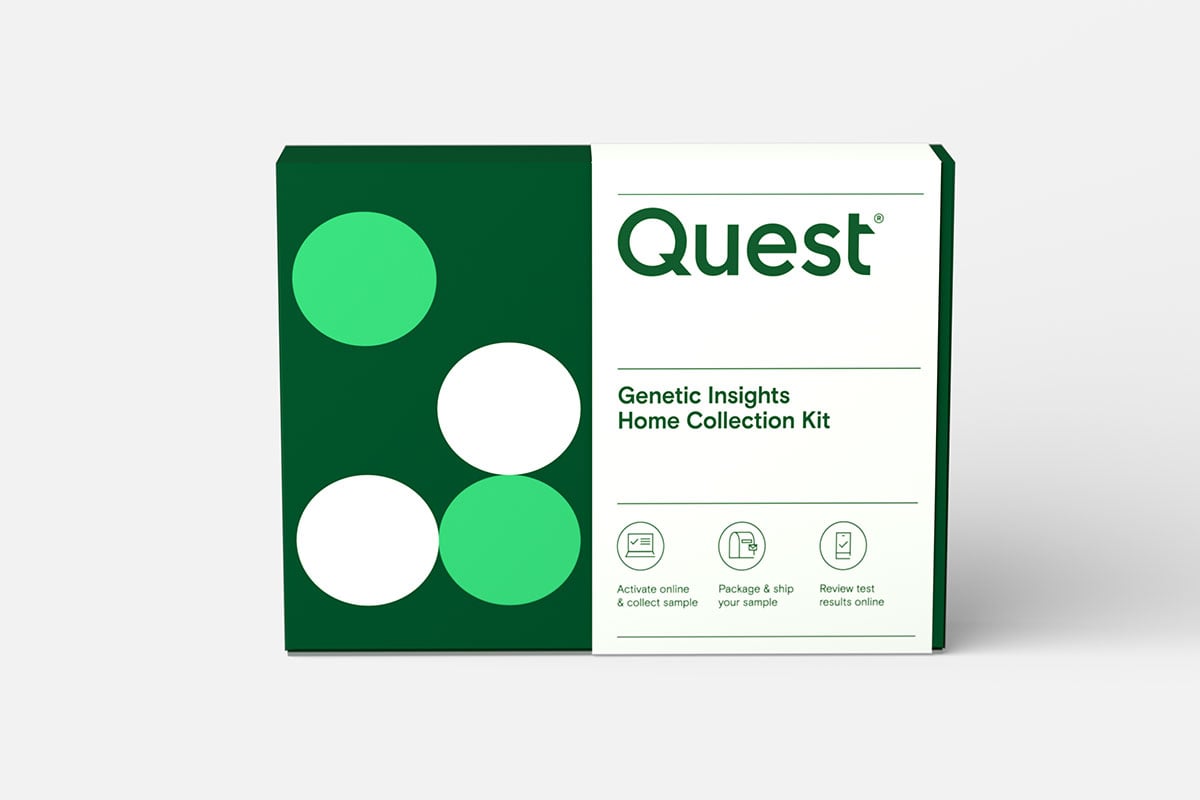 Genetic Insights
You deserve to know as much as you can to help prevent future health problems. Genetic Insights is a health screening offering that helps you to identify health risks based on your genetics.
Read more
Test details
---
Sample type:
Saliva Sample
Preparation:
You don't need to do anything special to prepare for your test.

All you need to do is follow the detailed instructions inside the home collection kit on how to collect your small saliva sample.
+
$12.00 Physician Service Fee
---
Who
This test is for anyone 18+ who wants to better understand and stay ahead of certain genetic health risks.
Purchases not currently available in: AK, AZ, HI, and NY.
How
You'll receive a kit to collect a saliva sample at home. The kit includes a prepaid FedEx mailer bag to send your saliva sample back to a Quest lab.
Note: Saliva-based DNA tests are just as accurate as blood-based DNA tests.
How
Saliva Sample
---
What's tested?
This test uses advanced next-generation sequencing technology to look for thousands of DNA variants in 36 genes that are linked to 23 health conditions.
Health concern
Condition name
Gene(s) tested
Breast cancer
ATM-associated cancer
Hereditary breast and ovarian cancer
PALB2-associated cancer
ATM
BRCA1, BRCA2
PALB2
Colon cancer
APC-associated cancer
BMPR1A-associated juvenile polyposis syndrome
Lynch syndrome
MUTYH-associated polyposis
POLD1/POLE-associated cancer
SMAD4-associated juvenile polyposis syndrome/HHT
APC
BMPR1A
MLH1, MSH2, MSH6, PMS2
MUTYH
POLD1, POLE
SMAD4
Breast and colon cancer
CHEK2-associated cancer
Peutz-Jeghers syndrome
CHEK2
STK11
Heart and blood health
Cardiomyopathy (heart disease)
Familial hypercholesterolemia (very high cholesterol)
Hereditary hemochromatosis (iron overload)
Hereditary thrombophilia (blood clots)
MYBPC3, MYH7
APOB, LDLR, PCSK9
HFE*
F2*, F5*
Connective tissue disorders
Classical Ehlers-Danlos syndrome
Familial thoracic aortic aneurysm and dissection
Loeys-Dietz syndrome
Marfan syndrome
Vascular Ehlers-Danlos syndrome
COL5A1, COL5A2
ACTA2
TGFBR1, TGFBR2, TGFB2, TGFB3
FBN1
COL3A1
Carrier status
Cystic fibrosis
Sickle cell anemia
Tay-Sachs disease
CFTR
HBB*
HEXA
*Only select DNA variant(s) are reported.