Basic Health Profile — Men's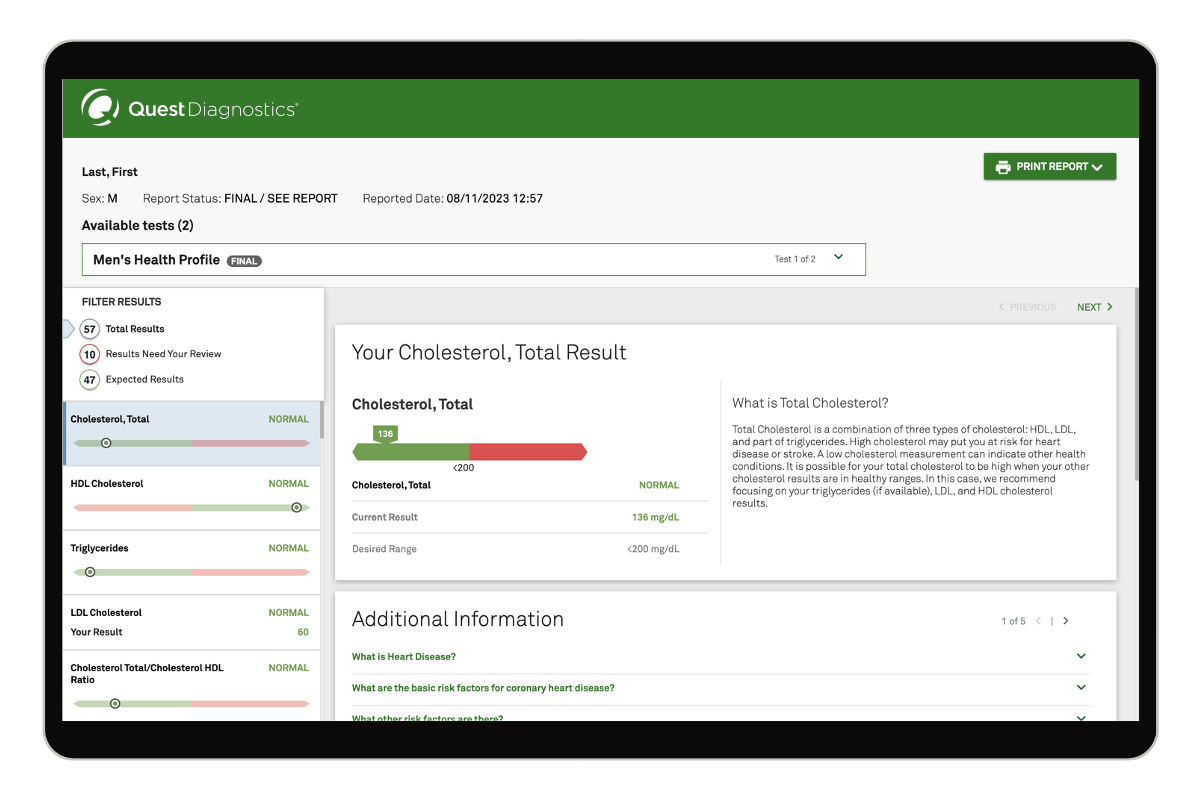 Basic Health Profile — Men's
Be proactive in learning about your overall health with this panel that includes tests that are frequently ordered at annual health visits to evaluate how well different organs and body systems are functioning for men. Includes a Prostate-Specific Antigen (PSA) Test to check your prostate health.
Read more
Test details
---
Sample type:
Blood and Urine
Preparation:
Fasting (not eating or drinking anything except water) for 8-12 hours is recommended.

You can drink water and take your regular medications as prescribed unless you are instructed by your healthcare provider not to do so. Those who choose not to fast may show elevated glucose and triglyceride levels.
+
$6.00 Physician Service Fee
---
What
The Men's Basic Health Profile includes Complete Blood Count (CBC), Comprehensive Metabolic Panel (CMP), Cholesterol Panel, Urinalysis, and Prostate-Specific Antigen Test.
Who
Must be 18+ years of age to purchase.
How
Blood and Urine
Schedule an appointment, then visit a Quest Diagnostics patient service center location.
About the Test
The Men's Basic Health Profile contains important tests to identify potential health risks or medical conditions. This test includes: Complete Blood Count (CBC) Panel, Complete Metabolic Panel (CMP), Cholesterol Panel, PSA Test, Urinalysis
Compare Products
| Test For | Basic Health Profile — Men's | Comprehensive Health Profile — Standard | Comprehensive Health Profile — Men's | Basic Health Profile — Standard |
| --- | --- | --- | --- | --- |
| Complete Blood Count (CBC) | | | | |
| Comprehensive Metabolic Panel (CMP) | | | | |
| Cholesterol Panel | | | | |
| Urinalysis | | | | |
| Inflammation Marker (hs-CRP Test) | | | | |
| Hemoglobin A1c | | | | |
| Vitamin D | | | | |
| Thyroid Function Risk | | | | |
| Prostate Screening (PSA) | | | | |
| Physical Measurements (Biometrics) | | | | |
| Individual Health Risk Assessment | | | | |
| Personalized Health Quotient Score | | | | |
| One-on-One Doctor Discussion | | | | |
| | | Learn More | Learn More | Learn More |
| Basic Health Profile — Men's | Comprehensive Health Profile — Standard | Comprehensive Health Profile — Men's | Basic Health Profile — Standard |
| --- | --- | --- | --- |
| Complete Blood Count (CBC) | | | |
| Comprehensive Metabolic Panel (CMP) | | | |
| Cholesterol Panel | | | |
| Urinalysis | | | |
| Inflammation Marker (hs-CRP Test) | | | |
| Hemoglobin A1c | | | |
| Vitamin D | | | |
| Thyroid Function Risk | | | |
| Prostate Screening (PSA) | | | |
| Physical Measurements (Biometrics) | | | |
| Individual Health Risk Assessment | | | |
| Personalized Health Quotient Score | | | |
| One-on-One Doctor Discussion | | | |
| | Learn More | Learn More | Learn More |