COVID-19 Active Infection Test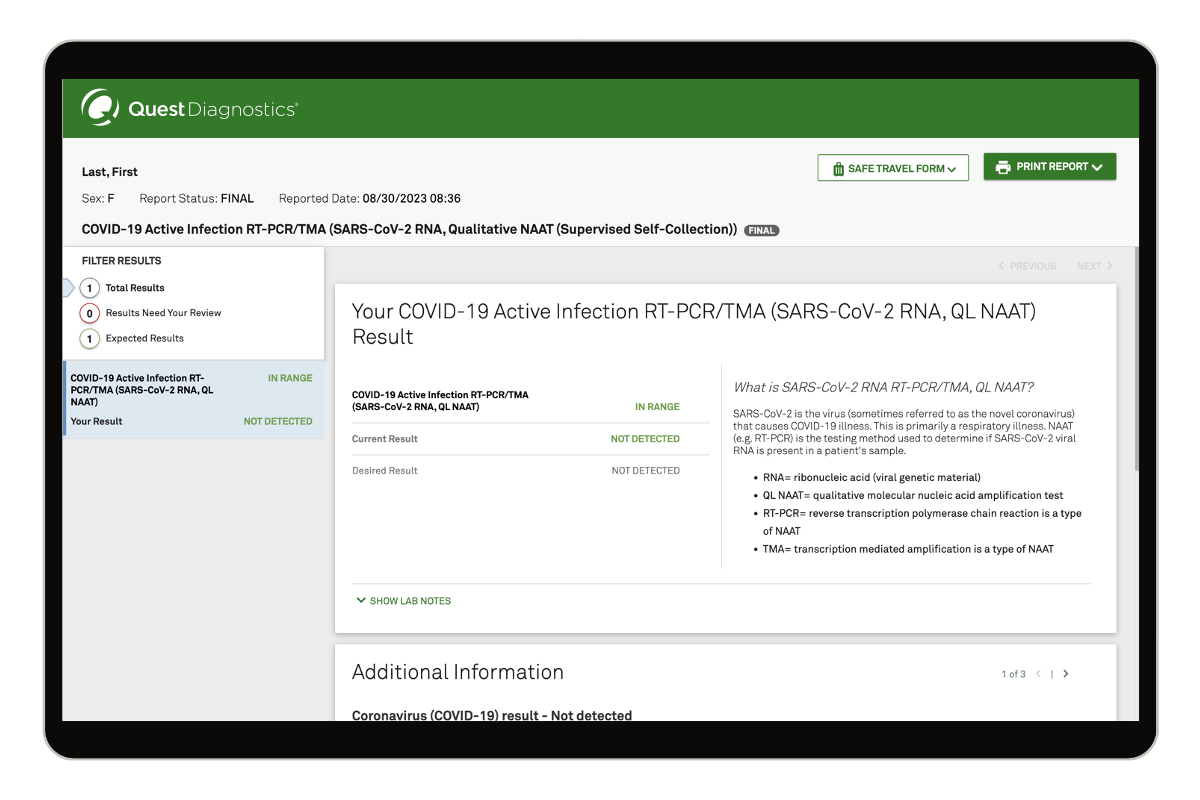 COVID-19 Active Infection Test
Test to detect an active SARS-CoV-2 (COVID-19) infection, regardless of symptoms.
Read more
Test details
---
Sample type:
Anterior nares (nasal) swab collection kit with in-person and at-home collection options.
Preparation:
You do not need to do anything special to prepare for the sample collection.

Fasting is not required for this test. If you choose our convenient home collection kit, your sample must be mailed back to us the same day you collect it. Detailed instructions will be included with each kit. If you are purchasing testing on behalf of a child, you as the parent or legal guardian must supervise and can help assist with the sample collection.
+
$6.00 Physician Service Fee
---
What
This test detects active COVID-19 infection in children and adults whether or not you have symptoms.
Who
Anyone who has been exposed to COVID-19, currently has symptoms, or needs to provide proof of a negative test. At this time, home collection kits are for self-use only.
How
Anterior nares (nasal) swab collection kit with in-person and at-home collection options.
In-person: a healthcare professional will observe while you complete the self-collection process yourself inside the location or in your vehicle.
Home collection: a home collection kit is sent to you.
About the Test
The COVID-19 active infection test detects SARS-CoV-2, the virus that causes COVID-19.
FAQs
This test has been authorized by the FDA under an Emergency Use Authorization (EUA). This means that while Quest Diagnostics has validated the test and has the data to believe the test and the collection kit are accurate, this test has not been FDA-cleared or -approved; This test has been authorized by FDA under an EUA for use by authorized laboratories; this test has been authorized only for the detection of nucleic acid from SARS-CoV-2, not for any other viruses or pathogens; and, this test is only authorized for the duration of the declaration that circumstances exist justifying the authorization of emergency use on in vitro diagnostics for detection and/or diagnosis of COVID-19 under Section 564(B)(1) of the Act, 21 U.S.C. § 360BBB-3(B)(1), unless the authorization is terminated or revoked sooner. Additional studies need to be conducted for this test and others like it to be FDA cleared or approved.
Instructions are included in the kit, but you can also refer to our How To Guide for more information and to watch a video to learn how to collect your sample.
You may be able to use your FSA or HSA funds to purchase lab tests at questhealth.com. Please review your FSA/HSA plan or check with a tax professional to confirm specific requirements for individual eligibility.