eMed® COVID-19 Telehealth Kit™ (2-Pack)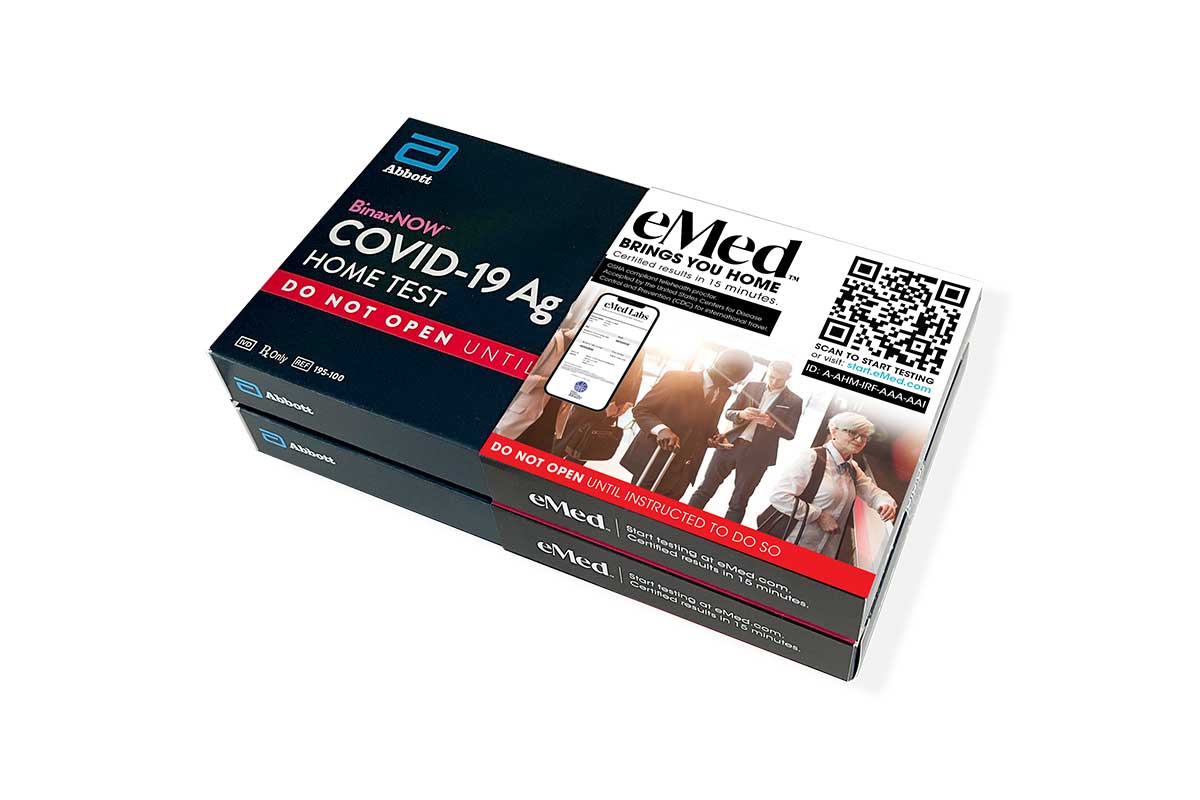 eMed® COVID-19 Telehealth Kit™ (2-Pack)
Test for Covid-19 infection with this remotely proctored at-home test.
Read more
Test details
---
Preparation:
Each box includes two test kits.

Each test in the 2-pack can be used by a different person. Test kits are non-refundable and will have an expiration date. To take the test, you will need: Access to a broadband internet connection, an internet-enabled device (smartphone, tablet, or computer) with a microphone, speakers, front-facing camera or webcam, and a web browser, proof of identity such as a driver's license or passport. You will want to have this on hand since you will need to show it to your telehealth proctor at eMed, LLC, an email account, a free NAVICA™ digital health account. Reference instructions for use to create this account when you are ready to take the test, if your child is taking the test, create a NAVICA™ account for yourself and then add your child as a Managed Profile, a minimum of 30 minutes available so that you can complete your virtually guided test and your test (Abbott BinaxNOW™ COVID-19 Ag Card Home Test). Use the instructions provided with your test to connect with a telehealth proctor at eMed, LLC who will help you through the testing process. Detailed instructions will be included with each kit. 
---
What
This test is used to screen for COVID-19, an illness caused by the coronavirus SARS-CoV-2.
Who
This test is for anyone who wants to know if their body is reacting to a COVID-19 infection or would like to verify results through a proctored test. Must be 18 years of age to purchase.
How
Nasal swab
An at-home test kit is sent to you.
About the Test
Quest offers the eMed® COVID-19 Telehealth Kit™ which includes two Abbott BinaxNOW™ COVID-19 Ag Card Home Tests. It is a simple solution for at-home COVID-19 antigen testing, with results available in 15 minutes. This test provides convenience and flexibility, plus virtual supervision that may meet testing requirements for travel or events.
Your test results will tell you whether you are currently infected with COVID-19. (Refer to CDC guidance on self-testing for additional information.) If your results are positive, it is important to contact your healthcare provider, isolate, monitor your symptoms, and follow up with a molecular PCR test, such as Quest's COVID-19 Active Infection test, to confirm whether you have an active infection.
If your results are negative, it means the virus was not detected in the sample you collected.
Please note: eMed, LLC provides services and oversight for this at home test. Quest Diagnostics does not provide laboratory testing services for this item. Your test results will not be shared with or available from Quest, and PWNHealth services and fees do not apply to this offering. Please refer to eMed's Terms of Use.
Quest Diagnostics does not provide laboratory testing services for this item. eMed, LLC is the testing services provider and facilitates physician oversight for this test. Your test results will not be shared with or available from Quest, and PWNHealth services and fees do not apply to this offering.
While your results will appear on your test card in 15 minutes, obtaining official documentation of your test result from eMed may take longer. This test is to be read and interpreted by your telehealth proctor. The exact length of time will depend on the volume of testing occurring at the time of your virtual appointment.
In the USA, this product has not been FDA cleared or approved but has been authorized by FDA under an Emergency Use Authorization. This product has been authorized only for the detection of proteins from SARS-CoV-2, not for any other viruses or pathogens. The emergency use of this product is only authorized for the duration of the declaration that circumstances exist justifying the authorization of emergency use of in vitro diagnostics for detection and/or diagnosis of COVID-19 under Section 564(b)(1) of the Federal Food, Drug, and Cosmetic Act, 21 U.S.C. § 360bbb3(b)(1), unless the declaration is terminated or authorization is revoked sooner.