Common Respiratory Allergy Panel — Basic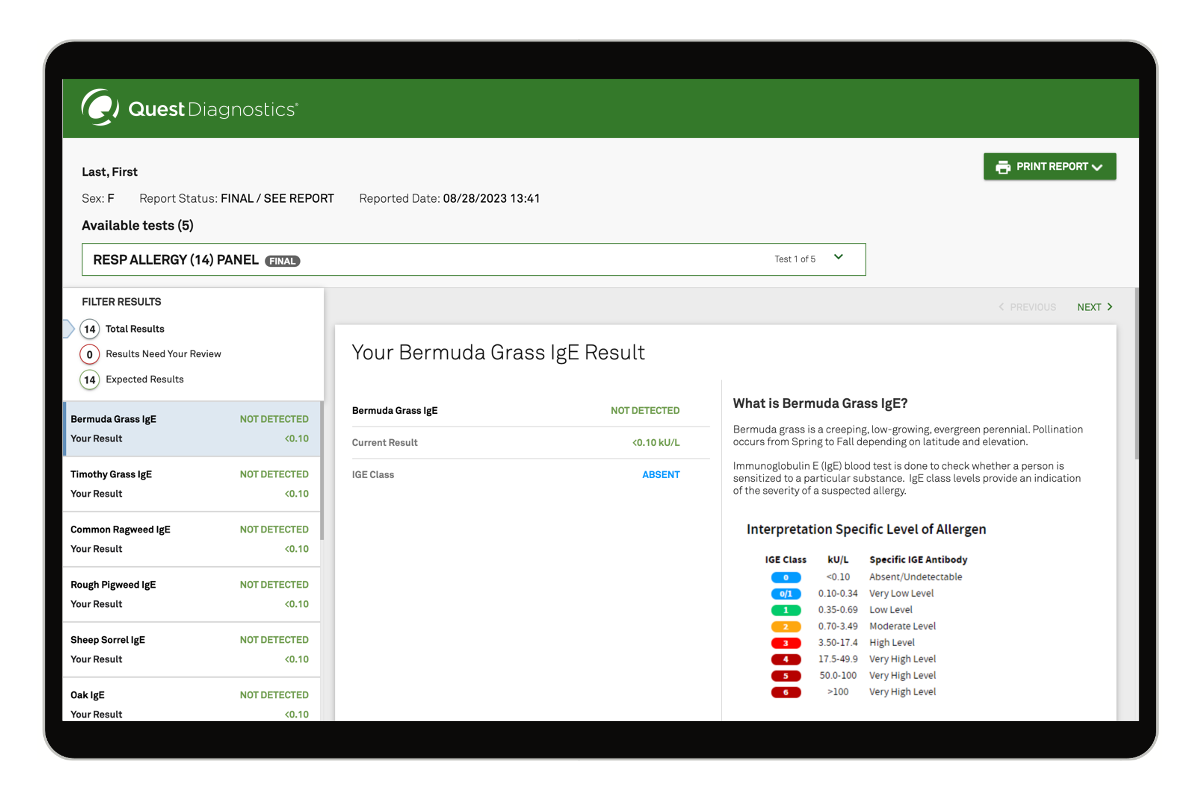 Common Respiratory Allergy Panel — Basic
Measure immunoglobulin E (IgE) antibodies in response to 14 common respiratory allergens. This test may help you and your healthcare provider determine whether you have an allergy.
Read more
Test details
---
Preparation:
You do not need to do anything special to prepare for the sample collection.

Fasting is not required for this test.
+
$6.00 Physician Service Fee
---
What
The Common Respiratory Allergy Panel — Basicl measures the level of IgE antibodies that your immune system produces in response to specific tree pollen, weed, grass, and common indoor allergens.
Who
Must be 18+ years of age to purchase.
How
Blood
Schedule an appointment, then visit a Quest Diagnostics patient service center location.
About the Test
The Common Respiratory Allergy Panel — Basic measures immunoglobulin E (IgE) antibodies produced in the blood in response to certain common tree pollen, weed, grass, and indoor allergens. This panel measures immune responses to weeds and grasses (Bermuda grass, Timothy grass, common ragweed, rough pigweed, sheep sorrel weed), wood tree pollen (oak, elm), and specific indoor allergens (cat dander, dog dander, mouse urine, Alternaria alternata mold, cockroach, and dust mites Dermatophagoides pteronyssinus (American), and Dermatophagoides farinae (European).
PLEASE NOTE
This test reports the presence of lgE(s) antibodies to tree pollen allergens, weed and grass allergens, and indoor allergens, but the result by itself cannot confirm the diagnosis of the allergy. It is important to follow up with your healthcare provider. They will review your results along with your medical history, signs and symptoms, medications, and any other test results. Only a healthcare provider can diagnose an allergy and prescribe medication, if needed.