Comprehensive Health Profile — Standard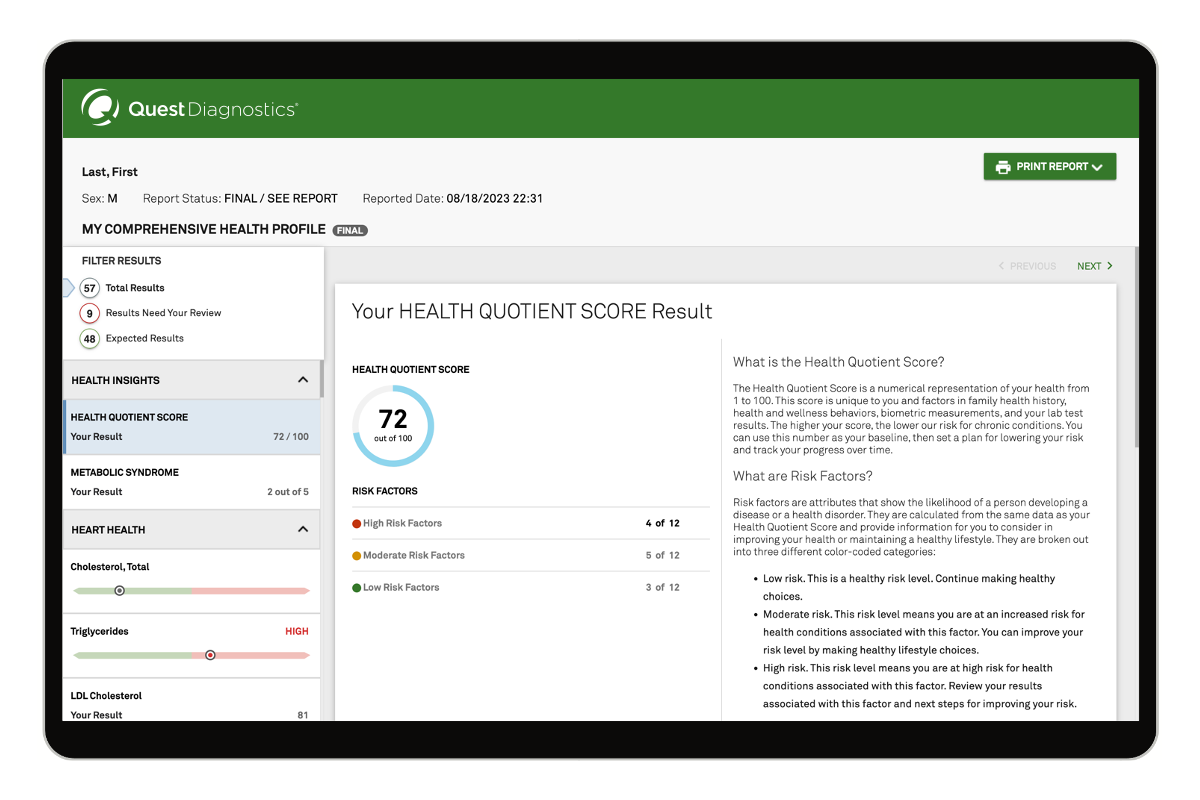 Comprehensive Health Profile — Standard
A more comprehensive offering than the basic panel, the CHP includes a complete blood count (CBC), Comprehensive Metabolic Panel (CMP), Cholesterol Panel and more.
Read more
Test details
---
Sample type:
Blood and Urine
Preparation:
Fasting (not eating or drinking anything except water) for 8-12 hours is recommended.

If you are not able to fast before the test, certain levels may be elevated. If you are taking medications, check with your healthcare provider to see whether you should take them before the test.
+
$6.00 Physician Service Fee
---
What
Includes: a complete blood count (CBC), comprehensive metabolic panel (CMP), cholesterol panel, vitamin D test, hemoglobin A1c (HbA1c), high-sensitivity C-reactive protein (hs-CRP) and a urinalysis. In addition, includes a biometric screening (key physical measurements), a health risk assessment survey and a health quotient score.
Who
Must be 18+ years of age to purchase.
How
Blood and Urine
Schedule an appointment, then visit a Quest Diagnostics patient service center location.
About the Test
This profile provides a deep dive into your health to paint a more complete picture of your overall wellness. It includes tests that may provide information about heart health, kidney health, liver health, bone health, diabetes risk, and other health factors.
This profile also includes the collection of key body measurements and an online Health Risk Assessment, which is a brief survey that will capture family health history and current health and wellness behaviors. These additional metrics include Biometric Screening (physical measurements of your height, weight, waist circumference, and blood pressure); a Health Risk Assessment survey to gather information about your family health history and your current health and wellness behaviors; a personalized Health Quotient Score which can be used to help you better understand and track your individual health. You may request a personal discussion with a doctor to review your results and help you set measurable and achievable health goals.
Compare Products
And find the right test for you.
| Test For | Comprehensive Health Profile — Standard | Comprehensive Health Profile — Men's | Comprehensive Health Profile — Women's | Basic Health Profile — Standard |
| --- | --- | --- | --- | --- |
| Complete Blood Count (CBC) | | | | |
| Comprehensive Metabolic Panel (CMP) | | | | |
| Cholesterol Panel | | | | |
| Urinalysis | | | | |
| Inflammation Marker (hs-CRP Test) | | | | |
| Hemoglobin A1c | | | | |
| Vitamin D | | | | |
| Thyroid Function Risk | | | | |
| Prostate Screening (PSA) | | | | |
| Physical Measurements (Biometrics) | | | | |
| Individual Health Risk Assessment | | | | |
| Personalized Health Quotient Score | | | | |
| One-on-One Doctor Discussion | | | | |
| | | Learn More | Learn More | Learn More |
| Comprehensive Health Profile — Standard | Comprehensive Health Profile — Men's | Comprehensive Health Profile — Women's | Basic Health Profile — Standard |
| --- | --- | --- | --- |
| Complete Blood Count (CBC) | | | |
| Comprehensive Metabolic Panel (CMP) | | | |
| Cholesterol Panel | | | |
| Urinalysis | | | |
| Inflammation Marker (hs-CRP Test) | | | |
| Hemoglobin A1c | | | |
| Vitamin D | | | |
| Thyroid Function Risk | | | |
| Prostate Screening (PSA) | | | |
| Physical Measurements (Biometrics) | | | |
| Individual Health Risk Assessment | | | |
| Personalized Health Quotient Score | | | |
| One-on-One Doctor Discussion | | | |
| | Learn More | Learn More | Learn More |