Cortisol Stress Hormone Test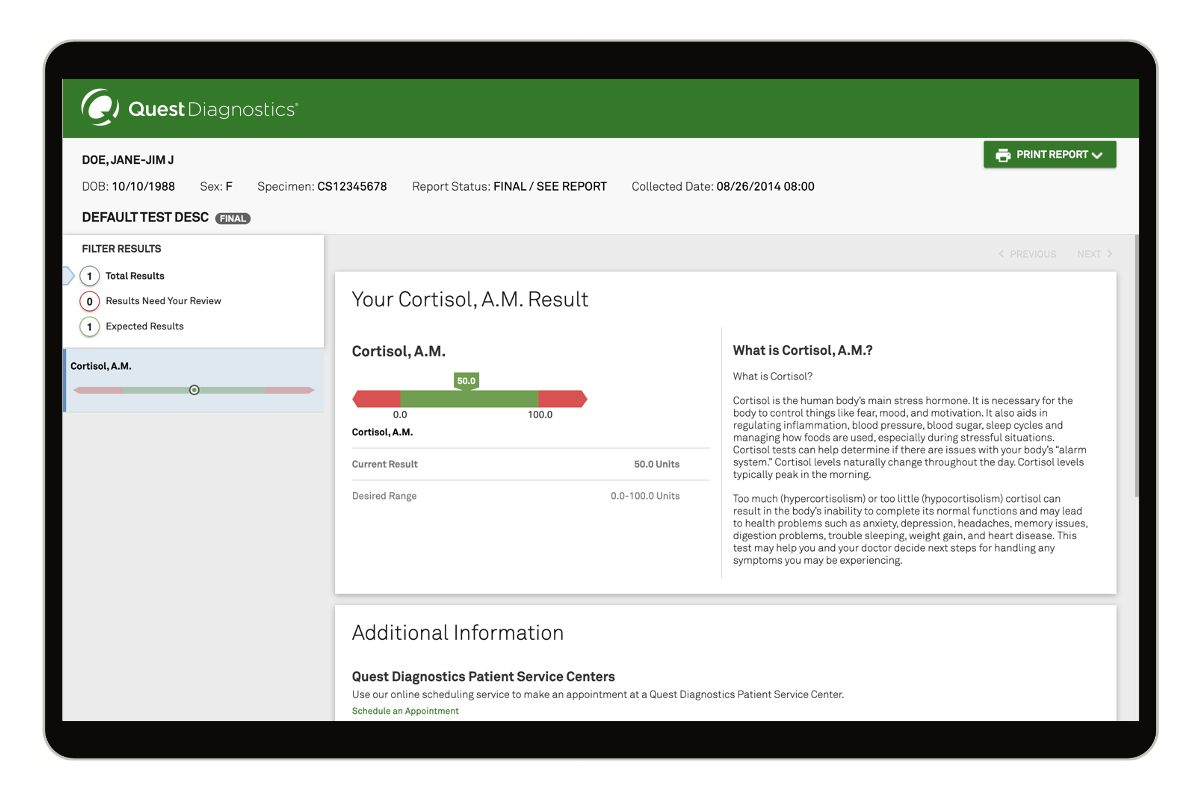 Cortisol Stress Hormone Test
This cortisol blood test measures the morning level of cortisol present in your blood.
Read more
Test details
---
Preparation:
You must schedule an appointment for sample collection in the morning only (between the hours of 7am and 9am).
You do not need to do anything special to prepare for the sample collection. Fasting is not required for this test.
+
$6.00 Physician Service Fee
---
How
Blood
About the Test
This cortisol hormone test can help determine the amount of cortisol present in your blood in the morning. Cortisol is the human body's main stress hormone. It is necessary for the body to control things like fear, mood, and motivation. It also aids in regulating inflammation, blood pressure, blood sugar, sleep cycles and managing how foods are used, especially during stressful situations. Cortisol tests can help determine if there are issues with your body's "alarm system."
FAQs
Yes. Cortisol levels naturally change throughout the day. Cortisol levels typically peak in the morning, and the morning level would be the best single point indicator of a problem with your stress hormone.
You may be able to use your FSA or HSA funds to purchase lab tests at questhealth.com. Please review your FSA/HSA plan or check with a tax professional to confirm specific requirements for individual eligibility.
Quest Diagnostics. Cortisol, A.M. Access August 10, 2023. Cortisol, A.M. | Test Detail | Quest Diagnostics.
WebMD. What is Cortisol?. Access August 10, 2023. Cortisol: What It Does & How To Regulate Cortisol Levels (webmd.com).
Cleveland Clinic. Cortisol. Access August 10, 2023. Cortisol: What It Is, Function, Symptoms & Levels (clevelandclinic.org)