eMed® UTI Telehealth Kits™ (2-Pack)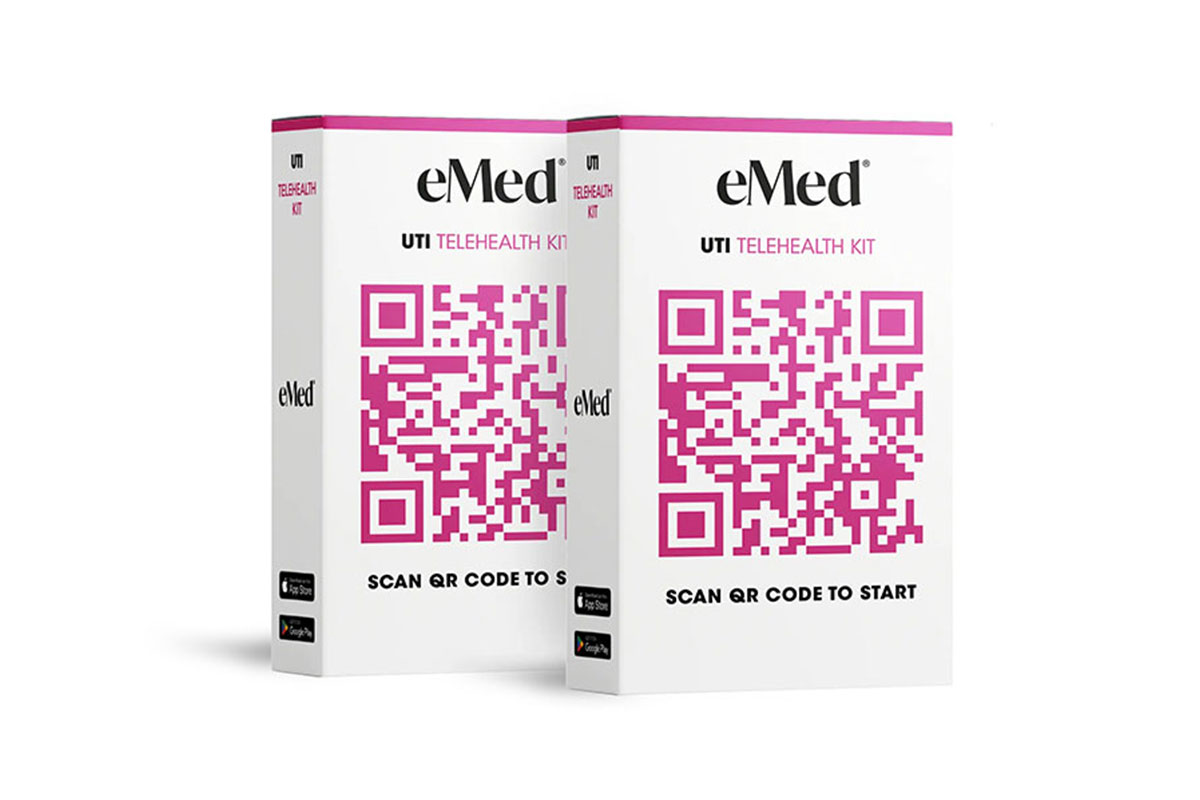 eMed® UTI Telehealth Kits™ (2-Pack)
Test for urinary tract infections (UTI) privately in the comfort of your own home and get the treatment you need, fast.
Read more
Test details
---
Preparation:
To take the test, you will need:

Access to a broadband internet connection; sn internet-enabled device (smartphone, tablet, or computer) with a microphone, speakers, front-facing camera or webcam, and a web browser; proof of identity such as a driver's license or passport. You will want to have this on hand since you will need to show it to your telehealth proctor at eMed, LLC; an email account; your test (eMed urinary tract infection (UTI) Test Strips). Use the instructions provided with your test to connect with a telehealth proctor at eMed, LLC who will help you through the testing process. Detailed instructions will be included with each kit. Detailed instructions will be included with each kit. 
---
What
This tests for white blood cells (leukocytes) and nitrite in urine that may indicate a urinary tract infection.
Who
This test is for individuals who have a painful, burning feeling when urinating, who have to urinate very often, or who only urinate small amounts even when having to go very badly. Must be 18+ years of age to purchase.
How
Urine
An at-home test kit is sent to you.
About the Test
Quest offers the eMed® UTI Telehealth Kits™ (2-pack) which includes the eMed urinary tract infection (UTI) Test Strips. These test for white blood cells (Leukocytes) and Nitrite in urine. Detection of these substances in urine aids in the screening of urinary tract infections. The UTI Test Strips are packaged individually in foil pouches with desiccant. They are for over-the-counter, home use only.
Along with 2 tests, your purchase includes online observation from a trained telehealth proctor. When you're ready to use your test, you'll connect live with a telehealth proctor at eMed, LLC to enable proper collection instructions, improved confidence in your results, and a medication* if prescribed by an eMed clinician.
*Treatment availability is subject to a telehealth consultation with a licensed clinician, which is included with this Telehealth Kit. Not all persons may be eligible or qualify to receive a prescribed treatment. Included treatments are subject to change. To see a list of treatments that may be prescribed via the Telehealth Kit, please visit https://www.emed.com/pages/treatments. Please contact your healthcare provider if you are not prescribed treatment and are still not feeling well.
Please note: eMed, LLC provides services and oversight for this at home test. Quest Diagnostics does not provide laboratory testing services for this item. Your test results will not be shared with or available from Quest, and PWNHealth services and fees do not apply to this offering. Please refer to eMed's Terms of Use.