Fitness Profile — Nutrition Test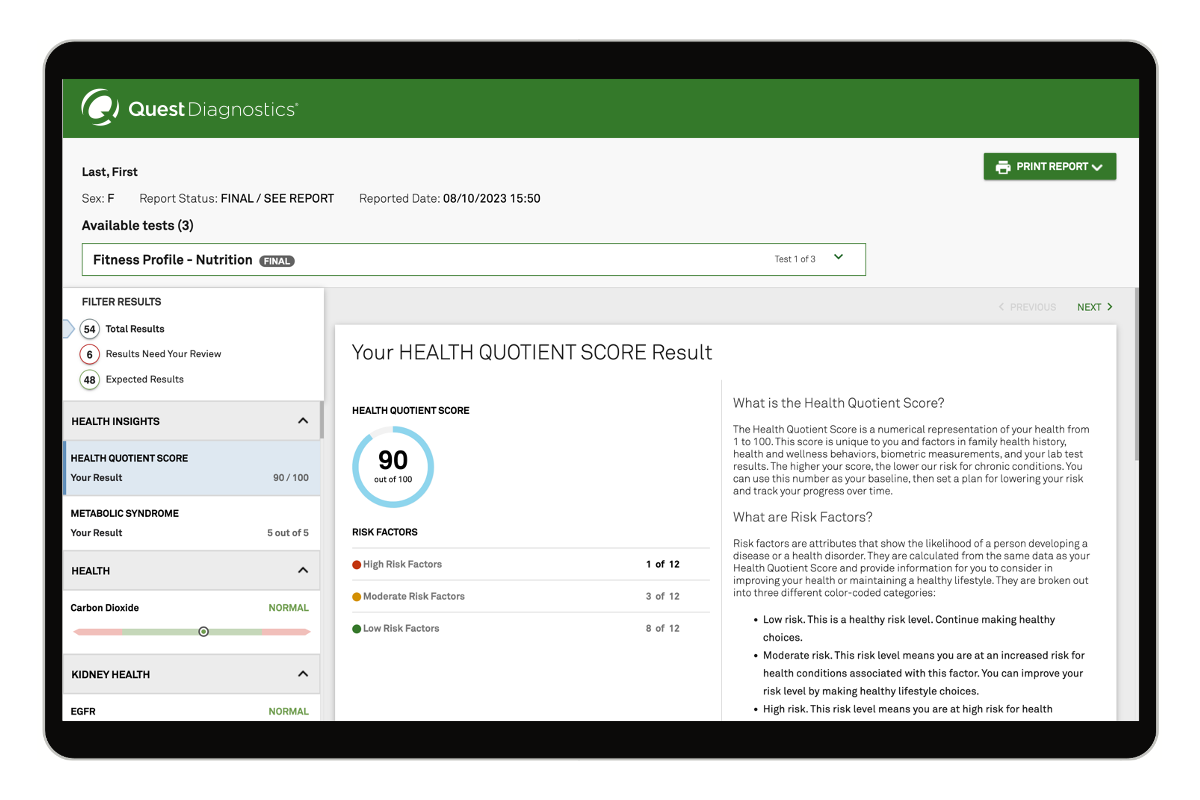 Fitness Profile — Nutrition Test
Testing to evaluate your nutrition, including macro and micronutrients. Designed for athletes training at high volumes and intensities.
Read more
Test details
---
Preparation:
Fasting (not eating or drinking anything except water) for 8-12 hours is recommended.

You can drink water and take your regular medications as prescribed unless you are instructed not to by your healthcare provider. Please check with your healthcare provider. Those who choose not to fast may show elevated levels.
+
$6.00 Physician Service Fee
---
What
The Fitness Profile – Nutrition helps the fitness-minded person evaluate their nutrition. This panel also includes a collection of key physical measurements and a Health Risk Assessment.
Who
Must be 18+ years of age to purchase.
How
Blood
Schedule an appointment, then visit a Quest Diagnostics patient service center location.
About the Test
The Fitness Profile - Nutrition also includes the collection of key body measurements and an online Health Risk Assessment, which is a brief survey that will capture family health history and current health and wellness behaviors. These additional metrics include a Biometric Screening (physical measurements of your height, weight, waist circumference, and blood pressure); a Health Risk Assessment survey to gather information about your family health history and your current health and wellness behaviors; a personalized Health Quotient Score which can be used to help you better understand and track your individual health and fitness. You may request a personal discussion with a doctor to review your results and help you set measurable and achievable health goals.
You may be able to use your FSA or HSA funds to purchase lab tests at questhealth.com. Please review your FSA/HSA plan or check with a tax professional to confirm specific requirements for individual eligibility.
These tests, as a group of markers, are intended to provide health, fitness, and performance insights to empower individuals to achieve optimal lifestyle health (exercise, nutrition, recovery, hydration, stress management). These tests are not intended to be a replacement for routine medical monitoring. Individuals taking in these tests are encouraged to seek professional medical assistance regarding the medical implications of any test results.