Lead Test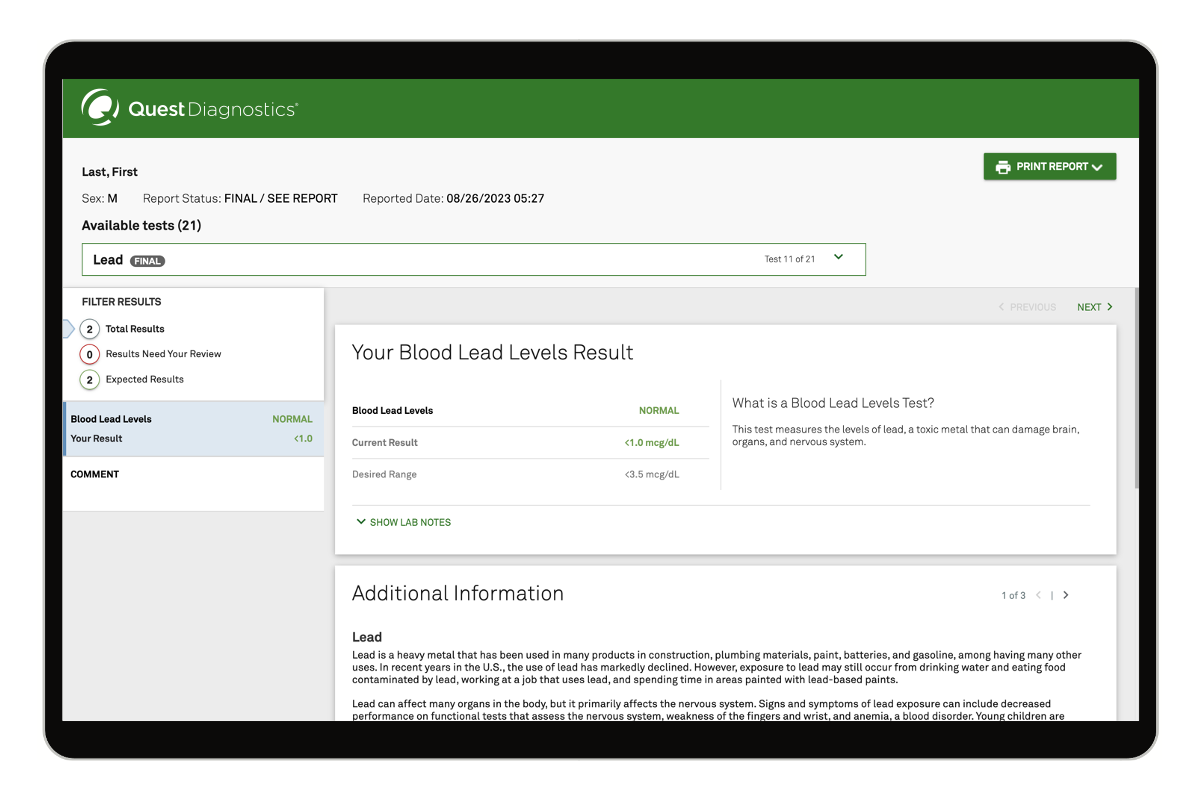 Lead Test
Screen for elevated lead levels in the bloodstream. Consider this test if you are concerned if you have been exposed to lead in your home, workplace, or environment.
Read more
Test details
---
Preparation:
You do not need to do anything special to prepare for the sample collection.

Fasting is not required for this test.
+
$6.00 Physician Service Fee
---
What
This test measures the levels of lead in the bloodstream to monitor potential exposure to lead.
Who
Must be 18+ years of age to purchase.
How
Blood
Schedule an appointment, then visit a Quest Diagnostics patient service center location.
About the Test
The Lead Test measures the level of lead in the bloodstream through a venipuncture draw (a needle is used to draw blood from a vein). Lead is a toxic metal found naturally in air, water, soil and in many consumer products. People may have a small amount of lead in the blood from these exposures. However, high levels of lead may indicate significant exposure in your home, workplace, or environment. Lead toxicity can damage the brain, organs, and nervous system.
FAQs
Lead is a highly poisonous metal that is naturally found in air, water, and soil, but can be toxic to humans and animals. When combined with other materials, it can be used to make many household and building supplies, including paint, batteries, plumbing, insulation, and gasoline. The United States has banned most of these uses; however, lead can be found in older homes and buildings, and many imported products, and contaminated water, air, or soil.
In 1978, the US federal government banned consumer use of lead-based paints, with some states banning it prior to 1978. Homes and buildings built prior to 1978 are more likely to have lead-based paint. Lead exposure results from breathing in, eating, or touching lead-based paint. If your home or work environment was constructed prior to 1978, it's critical to ensure that there are no chips, cracks, peeling, or other damage that may potentially expose original lead-based paint.

An increased risk of lead exposure may also result from using imported household goods, toys, food, and medicines, or engaging in hobbies that use lead products, such as glass blowing.
You may be able to use your FSA or HSA funds to purchase lab tests at questhealth.com. Please review your FSA/HSA plan or check with a tax professional to confirm specific requirements for individual eligibility.
1Committee on Practice and Ambulatory Medicine, Bright Futures Periodicity Schedule Workgroup. 2021 Recommendations for preventive pediatric health care. Pediatrics. 2021;147(3):e2020049776. doi:10.1542/peds.2020-049776
2CDC. Low level lead exposure harms children: a renewed call for primary prevention. Report of the Advisory Committee on Childhood Lead Poisoning Prevention. January 4, 2012.
*AMERICA IS WRAPPED IN MILES OF TOXIC LEAD CABLES. https://www.wsj.com/articles/lead-cables-telecoms-att-toxic-5b34408b