Ovarian Reserve Assessment Marker AMH Test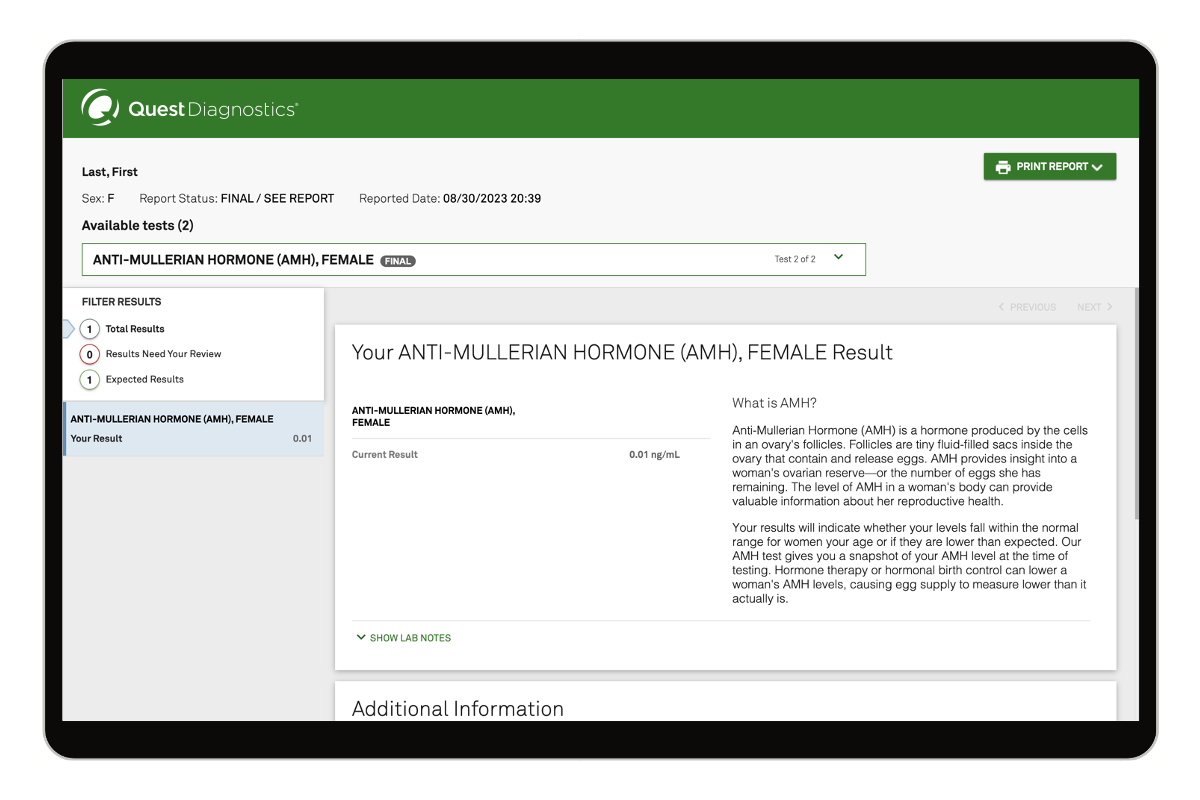 Ovarian Reserve Assessment Marker AMH Test
Measures your ovulatory egg supply and provides information about what that means for your personal pregnancy journey.
Read more
Test details
---
Preparation:
You do not need to do anything special to prepare for the sample collection.

Fasting is not required for this test. Since AMH does not fluctuate much during a month, you can test on any day of your menstrual cycle. However, hormone therapy or hormonal birth control use may decrease AMH levels and make a woman's egg supply appear lower than it is for her age.
+
$6.00 Physician Service Fee
---
What
This Ovarian Reserve Assessment Marker test measures the level of Anti-Mullerian Hormone (AMH) in your blood. Your AMH level is determined by the number and quality of eggs in your ovaries (ovarian reserve).
Who
This AMH test is for women who are currently trying to get pregnant or planning for pregnancy.
How
Blood
Schedule an appointment, then visit a Quest Diagnostics patient service center location.
For the most accurate results, see 'Preparing for Your Test' section below for details.
About the Test
The Ovarian Reserve Assessment Marker test measures AMH, a hormone that indicates the approximate number of eggs in your ovaries. AMH provides information about your reproductive health. Although it's linked to your egg count, it doesn't predict fertility.
AMH is a go-to hormone for helping women understand their ovarian reserve. AMH levels naturally decline with age, but not at the same rate for everyone. This test can be helpful for women who want to know if their ovaries reserve is declining faster than normal, signaling a shorter window for pregnancy.
In general, higher AMH levels indicate more eggs and a higher ovarian reserve. Additionally, lower AMH levels means fewer eggs and a lower ovarian reserve.