Post-COVID-19 Basic Test Panel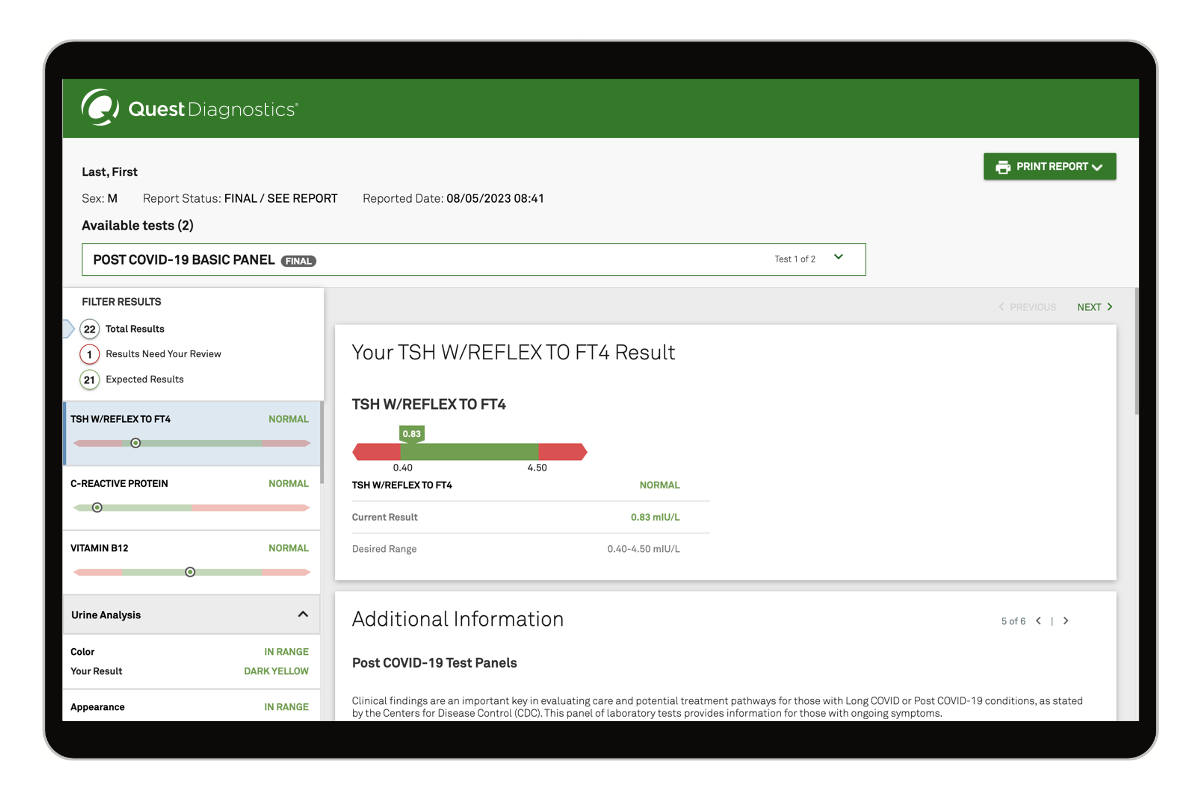 Post-COVID-19 Basic Test Panel
Discover if symptoms are potentially due to a post-COVID-19 infection. This is for those with ongoing symptoms caused or aggravated by COVID-19 so you can have a discussion with your doctor. This panel does NOT test for or diagnose COVID-19.
Read more
Test details
---
Sample type:
Blood and Urine
Preparation:
You do not need to do anything special to prepare for the sample collection.

Fasting is not required for this test.
+
$6.00 Physician Service Fee
---
What
Our Post COVID-19 Basic Test Panel includes C-Reactive Protein (CRP), Thyroid Function Test, Vitamin B12 Test, Vitamin D Test, and Urinalysis.
Who
Must be 18+ years of age to purchase.
How
Blood and Urine
Schedule an appointment, then visit a Quest Diagnostics patient service center location.
About the Test
Despite having mild or no symptoms while infected with COVID-19, 10-30% of people experience lingering symptoms lasting 4 weeks or longer, commonly known as post-COVID-19 conditions, or long COVID.
Some people who have had a severe COVID-19 infection may have symptoms that linger for weeks or months. While the link is still unclear, these long-term effects may increase the risk of diabetes, heart conditions, autoimmune disorders, and neurological conditions.
Clinical findings are an important key in evaluating care and potential treatment pathways for those with Long COVID or Post COVID-19 conditions, as stated by the Centers for Disease Control (CDC). This panel of laboratory tests provides information for those with ongoing symptoms.
These tests are to help you and your doctor determine if your current symptoms are potentially due to a post-COVID-19 infection or if you have another underlying health problem causing your symptoms.