STD Screening Panel — Basic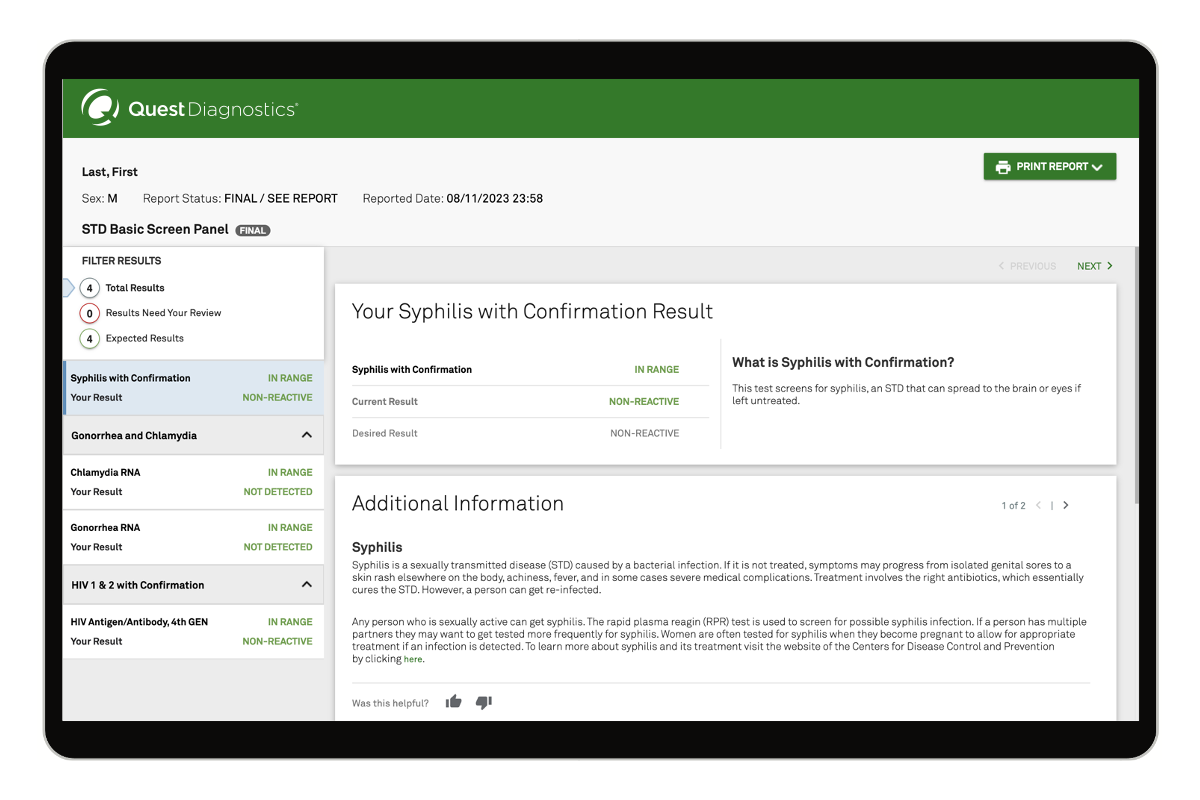 STD Screening Panel — Basic
Screen for four of the most common sexually transmitted infections and diseases to take control of your sexual health: Chlamydia, Gonorrhea, Syphilis, and HIV 1 & 2.
Read more
Test details
---
Sample type:
Blood and Urine
Preparation:
You do not need to do anything special to prepare for the sample collection.

Fasting is not required for this test.
+
$6.00 Physician Service Fee
---
What
Screens for chlamydia, gonorrhea, syphilis, HIV-1, and HIV-2.
Who
Must be 18+ years of age to purchase.
How
Blood and Urine
Schedule an appointment, then visit a Quest Diagnostics patient service center location.
About the Test
Sexually transmitted diseases (STDs) are common infections that spread from person to person during sexual activity and skin-to-skin contact. People with STDs may not have any signs or symptoms and this can lead to serious complications. If you're sexually active and have unprotected sex, it's important to screen for STDs so you can stay informed about your sexual health. Testing is the only way to know for sure whether you have a sexually transmitted infection. This panel individually screens for chlamydia, gonorrhea, syphilis, HIV-1, and HIV-2.
Compare Tests
And find the right tests for you.
| Test For | STD Screening Panel — Basic | STD Screening Panel — Expanded | Chlamydia & Gonorrhea Test | HIV 1 & 2 Test with Confirmation |
| --- | --- | --- | --- | --- |
| Gonorrhea | | | | |
| Chlamydia | | | | |
| HIV 1 | | | | |
| HIV 2 | | | | |
| Syphilis | | | | |
| Trichomonas | | | | |
| Hepatitis B | | | | |
| Hepatitis C | | | | |
| | | Learn More | Learn More | Learn More |
| STD Screening Panel — Basic | STD Screening Panel — Expanded | Chlamydia & Gonorrhea Test | HIV 1 & 2 Test with Confirmation |
| --- | --- | --- | --- |
| Gonorrhea | | | |
| Chlamydia | | | |
| HIV 1 | | | |
| HIV 2 | | | |
| Syphilis | | | |
| Trichomonas | | | |
| Hepatitis B | | | |
| Hepatitis C | | | |
| | Learn More | Learn More | Learn More |