Stress and Nutrition Antioxidant Screen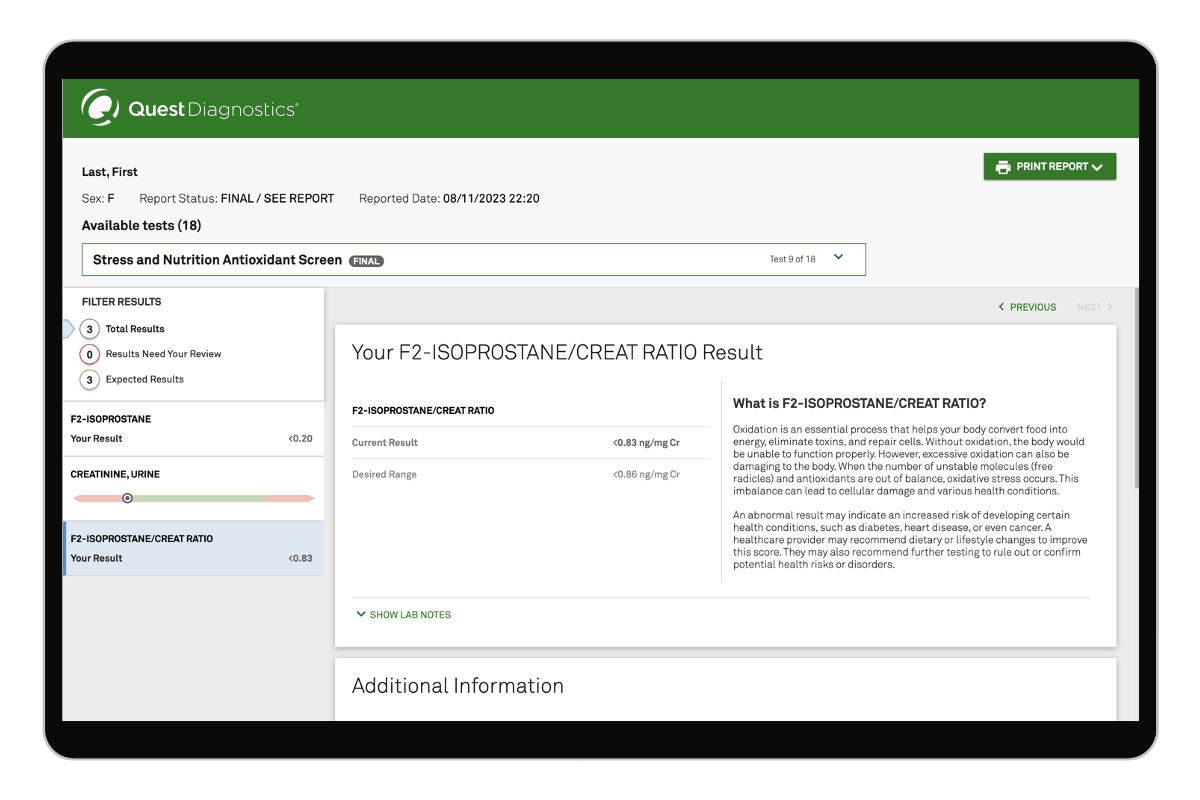 Stress and Nutrition Antioxidant Screen
Measure your oxidative stress levels to help you understand how an imbalance in certain antioxidants can put you at risk for developing chronic health conditions such as cancer, heart disease, or other chronic conditions.
Read more
Test details
---
Preparation:
You do not need to do anything special to prepare for the sample collection.

Fasting is not required for this test.
+
$6.00 Physician Service Fee
---
What
This test measures the F2-isoprostane/creatinine ratio, which reflects oxidative stress in the body.
Who
Must be 18+ years of age to purchase.
How
Urine
Schedule an appointment, then visit one of the Quest Diagnostics Patient Service Centers
About the Test
Oxidation is an essential process that helps your body convert food into energy, eliminate toxins, and repair cells. Without oxidation, the body would be unable to function properly. However, excessive oxidation can also be damaging to the body. This is called oxidative stress. This imbalance can lead to cellular damage and various health conditions.
This test is useful for anyone who wants to evaluate their oxidative stress levels, including those with risk factors such as smoking, unbalanced diet, high cholesterol (hyperlipidemia), or a family history of cardiovascular disease.
An abnormal result may indicate an increased risk of developing certain health conditions such as cancer, heart disease, or diabetes. A healthcare provider may recommend dietary or lifestyle changes or further testing to rule out or confirm potential health risks or disorders